Build team spirit. Demonstrate your team's energy and investigative creativity. This part of the application is optional, but it is a lot of fun to do-especially for students who can draw, print, design, or paint. Develop a Mission Patch, or Theme Song, or Team Motto.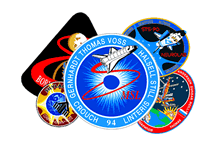 NASA creates a mission patch for each mission, and the Astronauts and mission team members all wear it on their uniforms. Mission patches are colorful and illustrate the themes of the mission.
1. Investigate the idea. Every NASA flight and significant space probe has its own Mission Patch, a colorful, collectible symbol for that mission.
2. The Mission Patch attempts to capture in colorful pictures and symbols the goals of the mission and its hopes for the future. The final Mission Patch you send to Mission Control may be a composite of ideas or one patch selected as most representative of your class as a whole.

3. Do you have an idea for a theme song or team motto? Those of you who are musically inclined, or who enjoy working with words, might add a slogan or a theme song with or without lyrics.