Classroom Setup

What is Needed
Videoconferencing system (a computer with a webcam at a minimum)
4 computers per team- each with a mouse

Please Note

:

if using all four teams: Alpha, Bravo, Charlie, and Delta the mission will require the use of 16 computers

Network/Internet connection for all computers
LCD projector for use with videoconferencing equipment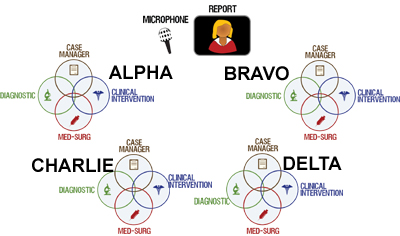 All computers must be connected to the Internet and using the latest version of Microsoft Internet Explorer Firefox or Safari. (All required software is specified below.) Each computer should have a minimum of 512MB Ram. The latest version of Adobe Flash Player is needed as well.

The videoconferencing system permits Mission Control to see the students during the mission. A computer projection device and a large screen located in the front of the room permits the students to see the Chief Medical Officer.
The videoconferencing system can be a dedicated videoconference unit such as Polycom or Tandberg, or a computer equipped with a webcam, a microphone, speakers, and videoconferencing software such as Skype (for Mac's or PC's).
If you have a standalone videoconferencing system you have to make sure it is connected using IP. If you are using ISDN lines we'll require a bridging system.
If you have a computer-based videoconferencing system, and the computer is a Mac or PC, you can install Skype (free) from the Internet.
Connection Procedures
H.323 IP Videoconference System: Get the IP number from the Challenger Learning Center –enter it into your videoconferencing system and dial in at 384 kb
For Skype —contact the Challenger technology support specialist for help in installation and setup, Mr. Dan Murphy. This e-mail address is being protected from spambots. You need JavaScript enabled to view it
Technical Questions
Please contact our technology support specialist: Mr. Dan Murphy. This e-mail address is being protected from spambots. You need JavaScript enabled to view it . He will contact you for a test connect approximately 2—4 weeks prior to your mission.
Classroom Setup
Each team of eight students works together to move the fictional patients through the health care process. The students need to be able to work in pairs; each pair needs one computer. The eight students are paired for work as Case Managers, Diagnostic Specialists, Med-Surg Specialists, and Clinical Intervention Specialists.
Materials needed
Case Manager's Instructions for each Case Manager
Specialist Instructions for each Diagnostic Specialist, each Med-Surg Specialist, and each Clinical Intervention Specialist
Patient Care Wall Chart (one for each team)
Patient report forms (one for each patient)
Clinical Intervention treatment order forms (one for each patient)
Markers for updating the Patient Care Wall Chart (one for each team)
Pencils, post-it notes, and scrap paper
Glossary of Anatomical Terms (one per team)